Having been born and raised in Oregon, California has been a touchy subject for as long as I can remember; I've heard all the jokes. However, as YIMBYs, we welcome people from everywhere, no matter where they "decided" to be born.
There is no doubt that California's housing crisis affects us here in Oregon, though. The average house price in San Francisco is over 1.3 million dollars – and there are other areas in the Bay Area that cost even more. Sure, there's high demand to live there, but there has also been an abject failure to provide enough housing for all the jobs in the area, something that has ratcheted prices up, and up, and up, to the point where on a cost of living basis, poverty in California is the highest in the nation. Here's a chart of housing production over the years in California. Even during the boom years it never hit highs from previous decades, despite more and more people wanting to live there to have access to jobs and other positive aspects of life in that state.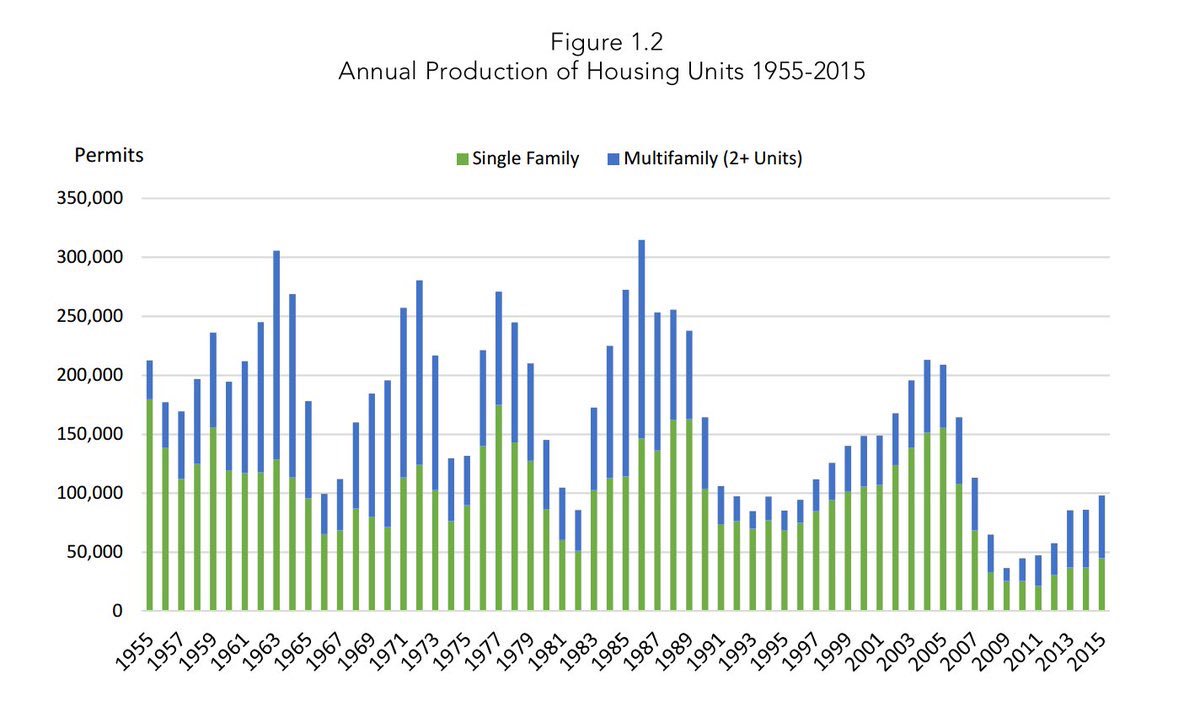 No wonder some people there can afford to sell out and move here because it's "cheap"; and others, who have no hope of buying a home where they're from, move to Oregon!
Oregon's pretty nice, and I think people would move here anyway even if housing costs weren't a factor. That's great! I like living in a place where other people choose to live too.  It sure beats living someplace that's slowly fading away because there are no reasons to live there anymore.
But it'd also be nice if everyone who wanted to could find a place – maybe not the largest, fanciest place, but someplace – to live in California if that's where they want to live – for a job, to stay close to family, or just because it's right for them.
At Bend YIMBY, we decided we're not quite to the point where we can endorse candidates during the current election here in Bend… but it seems like a lot of people here know someone in California, and we'd sure like to encourage them to vote for the YIMBY's there! Go check out these
As we fight to keep Bend a healthy, affordable city with housing options, we realize that it's a fight that is going on in many cities and towns across the country, and we support those doing their part to fix larger cities throughout the broader west coast that influence our own housing market.